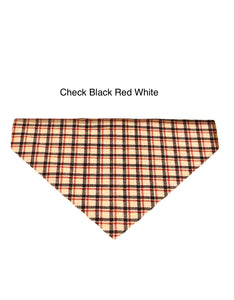 Pawsitive Petwear Bandanas are available in whimsical prints. Fits over the collar, through the sewn channel.  
Our bandanas are made in Canada, double layer 100% Cotton. Washable, comfortable, adorable. 
And, we can personalize each with your pet's name! If desired, please leave correct name spelling in Comments. 

For a comfortable fit, please measure similar to a collar, with two fingers fitting comfortably between the collar and your pet's neck.
We can also accomodate pets that don't wear a collar.
Sizes are based on Collar Size. 
Example: Large fits Neck size approx. 18" + two fingers comfortably = Collar size 20".
XS 8" Collar
SM 12" Collar
M 16" Collar
L 20" Collar 
XL 24" Collar 
XXL 28" Collar 
Intended for supervised pet use only. Please don't use on pets that may be prone to chewing. Please don't leave your pet unattended while wearing a bandana. Potential snagging, choking or discomfort may occur. 
If you have any questions, please email us at christine@heikehandmade.com and we'd be happy to help. We'd LOVE to see your PHOTOS!